Edna L (Pratt) Hayes
This document provides information about Edna L (Pratt) Hayes. The information is provided by her grandson, Fred E Hayes.
I do not have a great deal of information about my grandmother. She died in 1960, when I was seven years old. I can only provide snippets of memories.
Edna L Pratt had four children
                Frances Harrington (Hayes) McKee – a child of a previous marriage to a Dr. Harrington who left (or abandoned) the family soon after birth. Thomas Patrick Hayes later married Edna and adapted Frances. Frances married Edward McKee, West Virginia University Graduate. Edward McKee was a lawyer and judge. He was the long-time trainer for Triadelphia High School. You can still see the lettering on his law office window in the building across the street from the Ohio County-Wheeling municipal building. Frances died of cancer (?) in 1955. They have one son: Clark McKee, Morgantown, WV.
                Mary Ellen Hayes – Mary Ellen Hayes never married. She served in the United States Navy in WWII as an Aviation Storekeeper 1st Class (AK1). She was stationed in San Francisco and stayed there after the war. She lived on the 4000 block of Fulton Street; directly across from Golden State Park. She worked for Wells Fargo Bank. Later in life and after retirement, she moved to Reno, NV where her brother, Thomas Patrick Hayes, Jr was living. After his death she moved back to Wheeling, WV and soon thereafter passed away from complications from emphysema. She is buried in Mt Calvary Cemetery (National Road; the Catholic cemetery). Mary Ellen was very generous of her cousins and provided funds for all of us to attend college. I recall that she would fly to Wheeling WV airport on a visit – it was exciting for me to go to the airport and see DC-3 aircraft landing. The special treat for me (12th birthday?) was that she took me to lunch at Elby's on 12th Street in Wheeling and gave me a bicycle speedometer as a present.
                Thomas Patrick Hayes – Married twice (I think). He had two children with his 2nd wife, Helen. Thomas graduated from Wheeling High School in 1933. He joined the Navy in the mid 30's. He was a radioman. He was promoted Chief Petty Officer in WWII. I believe that he served on the cruiser, Phoenix (possibly St. Louis). He stayed in the Navy after the war and retired as a Chief Warrant Officer. He was on the initial commissioning crew on the USS Independence, CV-62, in the early 60's. After retirement he completed college and a master's degree. He worked for Sperry Rand (or Grumman?) in Long Island. When I was attending Nuclear Power Training in Mare Island Naval Shipyard, California; he was living in Aptos, CA. He was building houses and then selling them. He is buried in Arlington cemetery with wife Helen.
                Edward Pratt Hayes – My father. Married to Mary Elizabeth (Barnes) Hayes. Graduated from Triadelphia High School – 1940 (1941?). Served in the Navy in WWII see http://ohea.negt/biography/EPHayes/EPHayes_WarYears.htm Graduated West Virginia University. Worked for Wheeling Electric and Wheeling Pittsburgh Steel. He lived in 46 Orchard Lane, Bethlehem, WV; a house that he built in 1959. He was the plant Engineer at the Yorkville Plant. He was a leader in creating girls software teams and youth soccer in Wheeling. He was a WV State Referee. He taught various courses at the Belmont campus of Ohio University. He was a leader in the 1st Baptist Church, Wheeling.
Other Memories
I remember visiting my grandmother's apartment on Market Street in Wheeling, WV – just off the exit from the Ft Henry Bridge. If my memory is correct, she had an elephant's foot stool. When my father built his house in Bethlehem, he added an apartment for her. She must have only lived there a short time as she passed away in 1960. I recall as a 6 year old, that I wasn't allowed to go through the door to the apartment or bother her in the early morning. But once she was up, it was always a good deal as candy was involved.
Edna Hayes and her husband Thomas were leaders in the 'Wheeling Little Theater'. I can recall a picture, now lost, showing her as the Fairy Queen from a Midsummer Night's Dream. It's possible that my memory is really faulty on this, but I believe that my father (Edward Pratt Hayes) played Puck.
Pictures
<![if !vml]>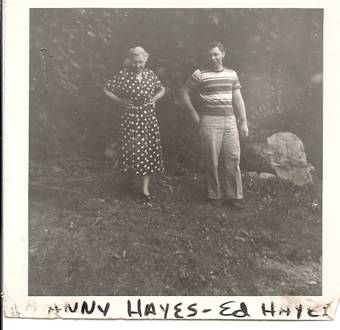 <![endif]>
Edna L Hayes and 4th child, Edward P. Hayes (father of Fred E. Hayes). Likely taken in 1953 soon before the birth of Fred E. Hayes. Edna has a pose eerily reminiscent of Thomas Patrick Hayes her 3rd son.  This is very speculative. The picture could have been taken on Lind Street, Wheeling WV – where Hayes lived at this time. This location is literally the Western end of the Wheeling Tunnels (I-70) .
<![if !vml]>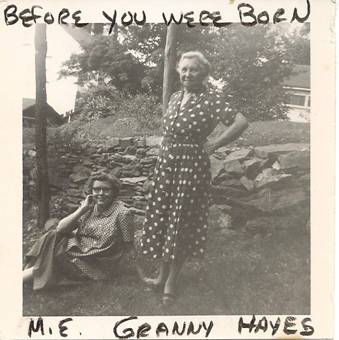 <![endif]>
Edna L Hayes and Mary Elizabeth Hayes taken in 1953. Mary Elizabeth Hayes is the wife of Fred E. Hayes and husband of Edward P. Hayes. This was likely taken at the same time and location as the previous picture.
<![if !vml]>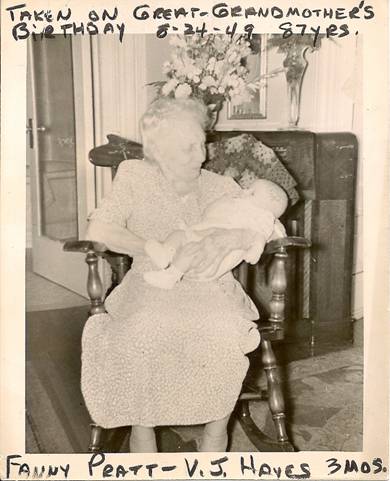 <![endif]>
Fanny (Harris) Pratt with Vicki J Hayes, daughter of Edward and Mary Elizabeth Hayes and granddaughter of Edna L Hayes. The picture is annotated that it was taken on 08/24/1949. Fanny Pratt is 87 years old.
<![if !vml]>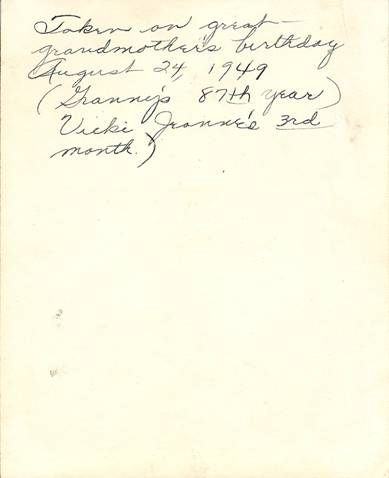 <![endif]>
Reverse of previous picture.
<![if !vml]>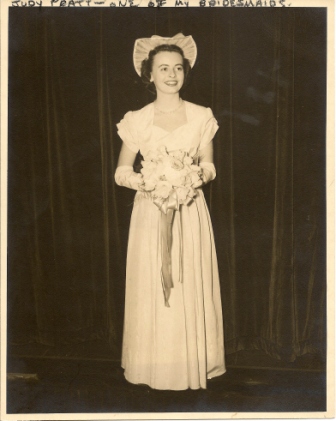 <![endif]>
Judy Pratt – Niece of Edna L (Pratt) Hayes. She is the daughter of Richard Pratt, brother to Edna. This was taken at the wedding of my Father Edward Hayes and Mary Elizabeth (Barnes) Hayes. It was a double wedding, my mother's sister, Eileen, married Merrill Eugene McCarty on that date.

Greenwood Cemetery
The next pictures are the Pratt section of Greenwood Cemetery in Wheeling WV. The cemetery is on National Road between Triadelphia Middle School (former High School) and the 1st Baptist Church.
There are other graves of interest in this cemetery. When I took the pictures below in 2007, I did not recognize that some of the other graves that were close by were also related. Some notes from my Father, Edward P. Hayes also list graves for:
                Abraham Harris (1913) – father of Fanny (Harris) Hayes
                Mary Margaret Owen (1912) – wife of Abraham Harris
                James H Harris (1940)
                John M Fawcett, MD (1945) – husband of Jessie (Harris) Fawcett
                Jessie Harris Fawcett – 5th child of Abraham and Mary Harris
<![if !vml]>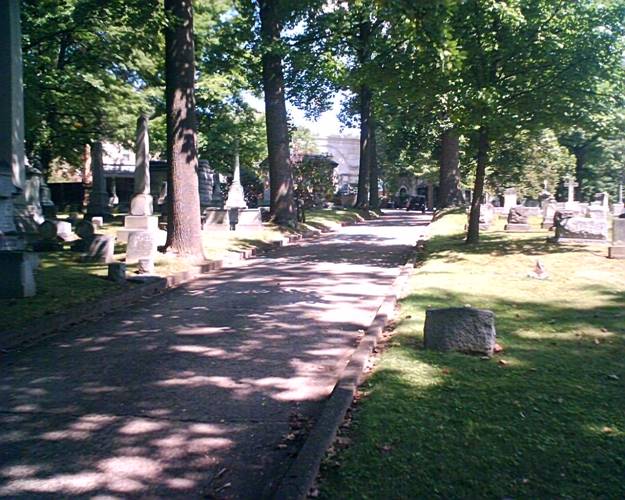 <![endif]>
This is a locating picture. It is pointing up the hill from the Pratt Family Plot. You're looking at the Gate and administrative offices to the cemetery. If you are entering the cemetery, you come through the gate and bear diagonally to the right and down the hill. The distance is approximately 80 yards.
<![if !vml]>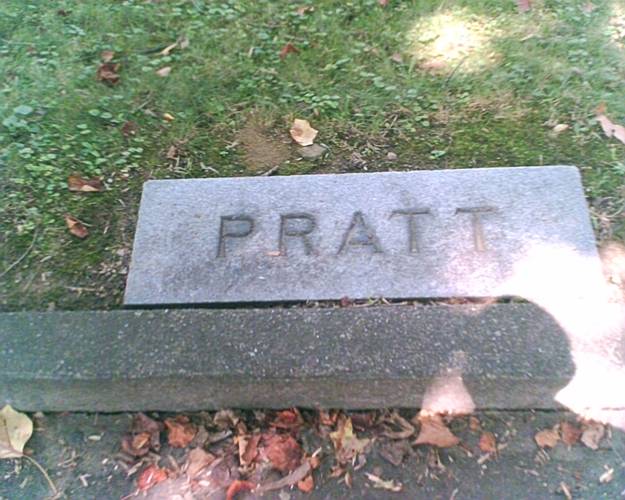 <![endif]>
Pratt Family Plot
The next several pictures show individual gravestones – I may not have these in exact lineal order.
<![if !vml]>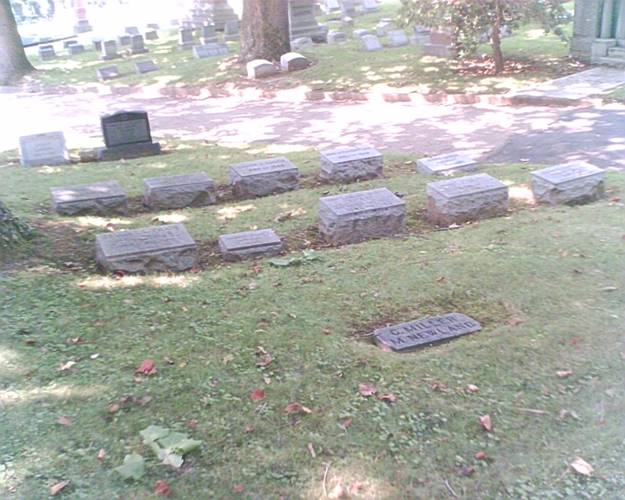 <![endif]>
<![if !vml]>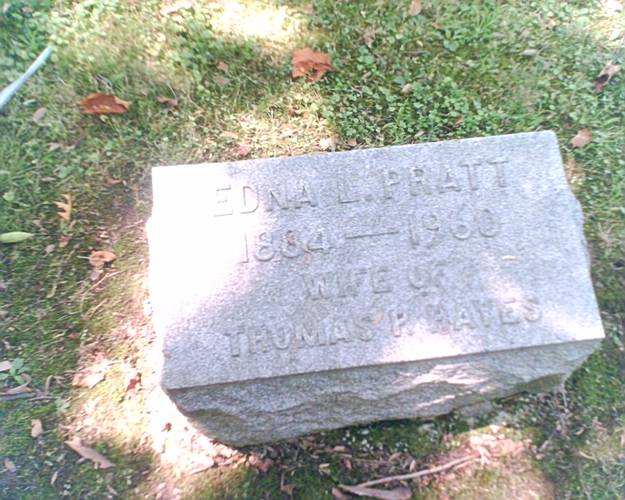 <![endif]>
Edna L Pratt 1884 – 1960. According to my father's notes her middle initial, like her father's (Edward L Pratt) was just the letter L. I believe that Edna L Hayes was Episcopalian. Her husband, Thomas Patrick Hayes, is buried in the Mt. Calvary Cemetery. This is the Catholic cemetery. It is on National Road, next to Wheeling Park and across the street from Triadelphia Middle School.
<![if !vml]>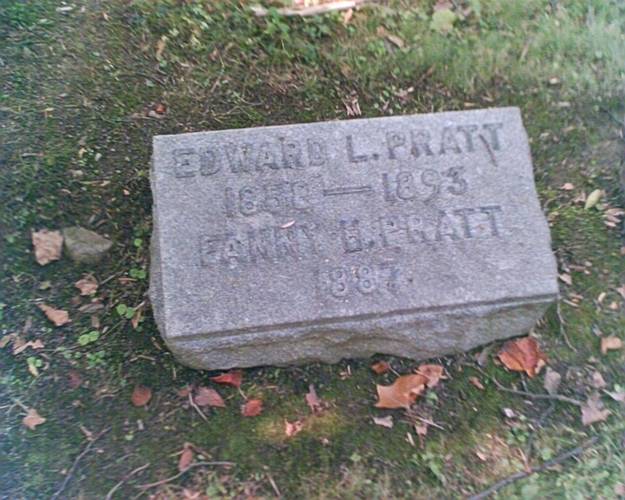 <![endif]>
Edward L Pratt 1858 – 1893. Father of Edna L (Pratt) Hayes. There is also a baby that apparently died at a very early age – Fanny H. Pratt.
<![if !vml]>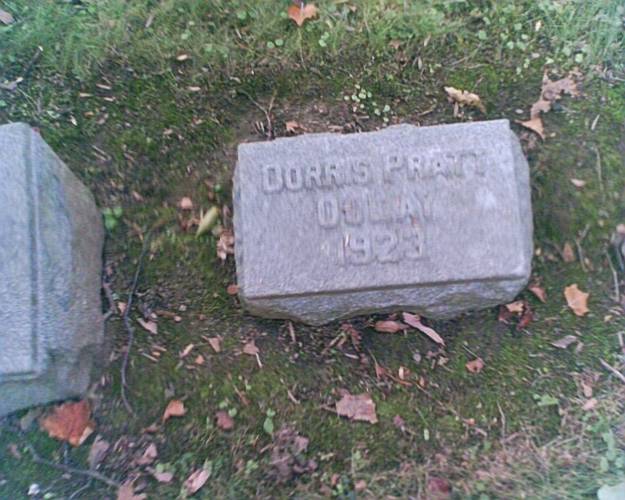 <![endif]>
Dorris Pratt DuLay – 1923. Stillborn (?) child of Mary Fulton Pratt who had married a Ned DuLay in Paris France (later divorced).
<![if !vml]>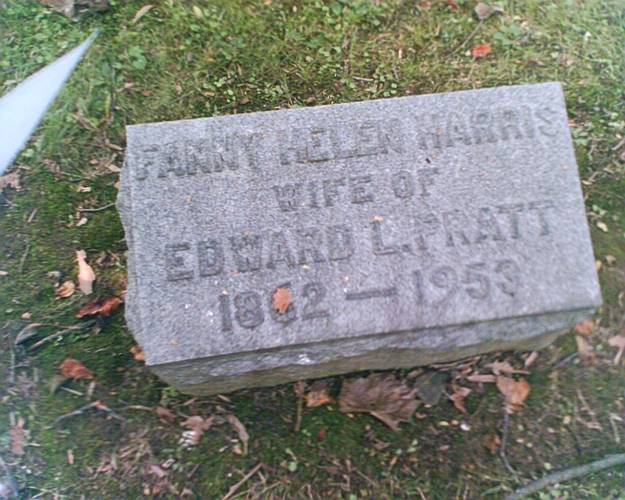 <![endif]>
Fanny Helen (Harris) Pratt 1862-1953
<![if !vml]>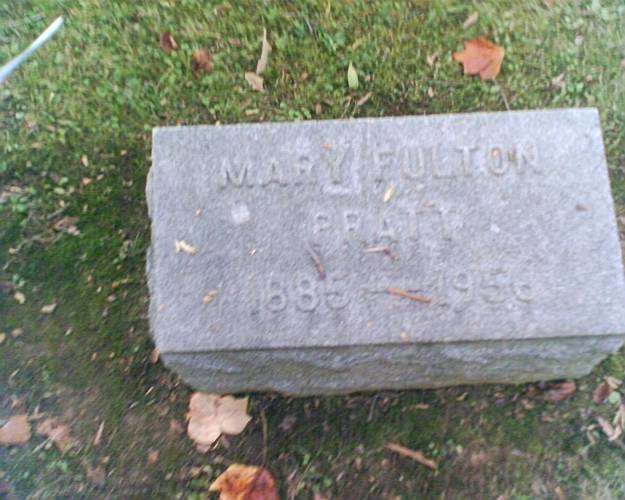 <![endif]>
Mary Fulton Pratt 1885-1956. This could be my somewhat proverbial Great Aunt Mary. She got to France as an American Red Cross volunteer in WWI. Married Ned DuLay in Paris, France. Later she got to China. I don't know details. I have four brass pieces of Chinese origin that were passed down to me from my father Edward Pratt Hayes – my recollection are that Mary brought these back from China.